But you knew that. And you do remember what that means, right? In case you forgot, let me me jog your memory. It means that it is "Down Syndrome Awareness Month!" This is the month that we (me and you) help raise awareness of that little something extra that comes with Down Syndrome. This is the month I brag on my Delightfully Special grans. You are more than welcome to brag on them as well, it's easy to do. Because well they are awesome!!
You should join up. 31 days of blogging is nothing (lots easier than jogging; I'm just sayin') and you just might find you like it.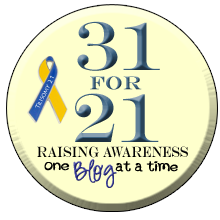 Grab This Button; you know you want too!
And you will be happy you did!!